The Phil Collins Big Band > A Hot Night In Paris
18/05/1999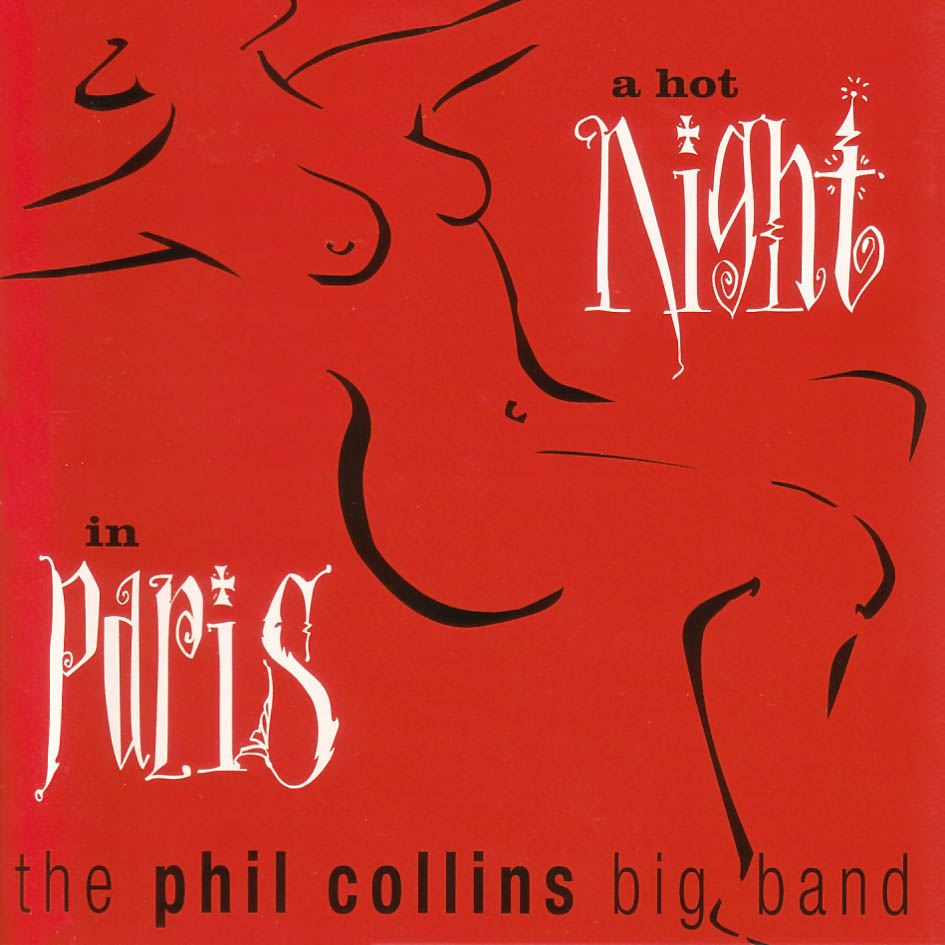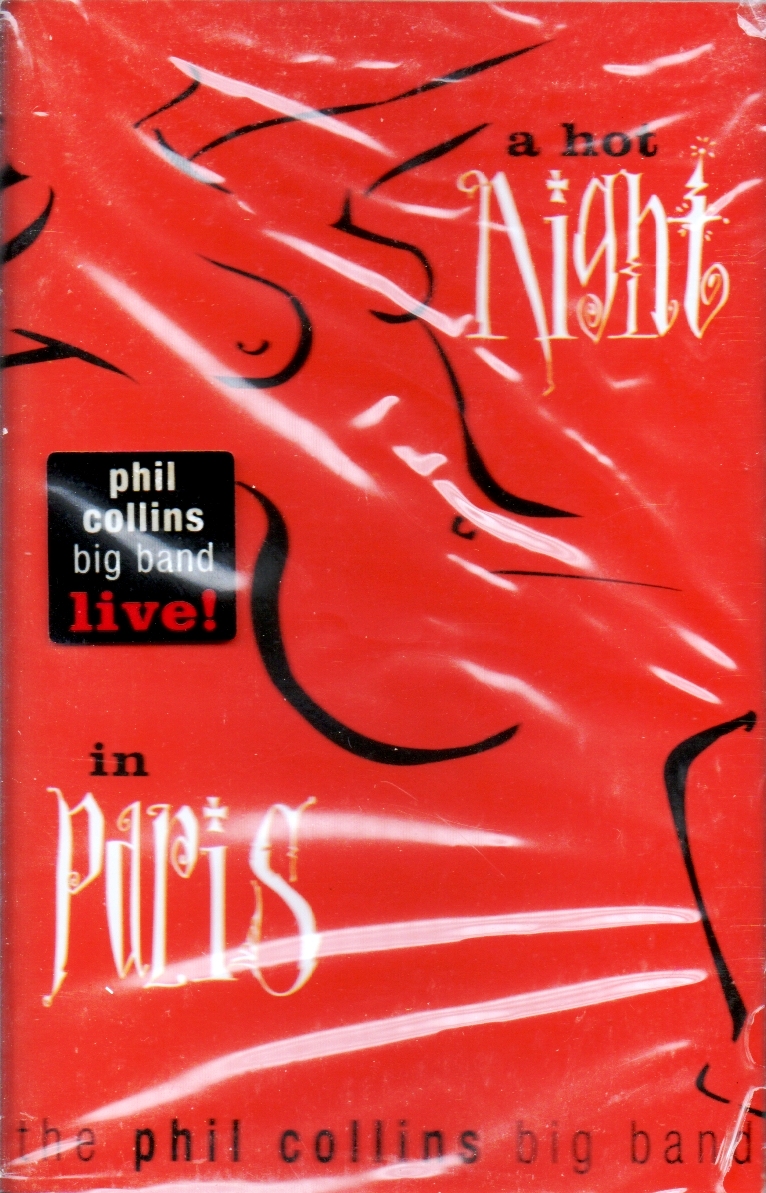 18/05/1999
CD: Atlantic/WEA 3984 27221-2 (DE) / MC: Atlantic/WEA 3984 27221-4 (FR)

01/02/2019 (remaster)
CD: Atlantic 603497854226 / 2 LP: Atlantic 603497854219




CD



01 Sussudio
02 That's All
03 Invisible Touch
04 Hold On My Heart
05 Chips & Salsa
06 I Don't Care Anymore
07 Milestones
08 Against All Odds
09 Pick Up The Pieces
10 The Los Endos Suite
Double LP (remaster 2019)



Disc 1 / Side A

01 Sussudio
02 That's All
03 Invisible Touch

Disc 1 / Side B


04 Chips & Salsa
05 Hold On My Heart
06 I Don't Care Anymore

Disc 2 / Side C

07 Milestones
08 Against All Odds

Disc 2 / Side D

09 Pick Up The Pieces
10 The Los Endos Suite


Enregistré au Grand Rex à Paris le 21 juillet 1998.

Musicians :

Saxophones :


Matt James : alto saxophone / woodwinds




Larry James : tenor saxophone / woodwinds




Chris Collins : tenor saxophone / woodwinds




Ian Nevins : tenor saxophone / woodwinds




Kevin Sheehan : baritone saxophone / woodwinds



Trombones :


Arturo Velasco : trombone




Scott Bliege : trombone




Mark Bettcher : trombone




Antonio Garcia : bass trombone



Trumpets :


Daniel Fornero : trumpet / flugelhorn




Harry Kim : Musical director, trumpet / flugelhorn




Tito Carrillo : trumpet / flugelhorn




Alan Hood : trumpet / flugelhorn




Ron Modell : trumpet / flugelhorn



Rhythm section :
Phil Collins : drums, vocals
Brad Cole : keyboards


Daryl Stuermer : guitar




Doug Richeson : bass


Luis Conte : percussion
Oleta Adams : piano, vocals



Produced by Don Murray and Daryl Stuermer




Overseen by Phil Collins




Mixed by Don Murray at Capitol Studios LA




Assistant engineers: Pete Doell and Dann Thompson at Ocean Wat Studios L.A




Assistant engineer: Greg Burns




Live recording engineers: Mauricio Guerrero and Christophe Suchet




Recorded by Dinemec Mobile Studio




Mastered by Don Murray and Robert Vasgien at Capitol Mastering




Cover design: Wherefore Art?




Illustration: Sian Rance





Note :




""It was 1966 when I first heard the Buddy Rich Swinging New Big Band. All the other things I was listening to at the time had to move over and make room for this wonerful noise I had discovered. I went searching for more and discovered Count Basie with Sonny Payne, Harold Jones and Jo Jones... then Duke Ellington and so many more. I decided that, one day, I'd have to have a go myseflf and form my own big band.




Thirty years later I did it. In 1996 I toured Europe with Quincy Jones conducting and Tony Bennett as our guest vocalist and my band. I was in Heaven.




Having dived in, I couldn't wait to do it again. In 1998 I took the band out again and toured the USA and Europe. We recorded some shows and the result is here to listen to. For me it's a labour of love. I'm back where I belong, behind the drums, playing music I'm proud of with some wonderful musicians. I hope it moves you as it does me. If it does, come and see us sometime."




Luv


Phil Collins"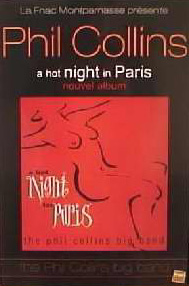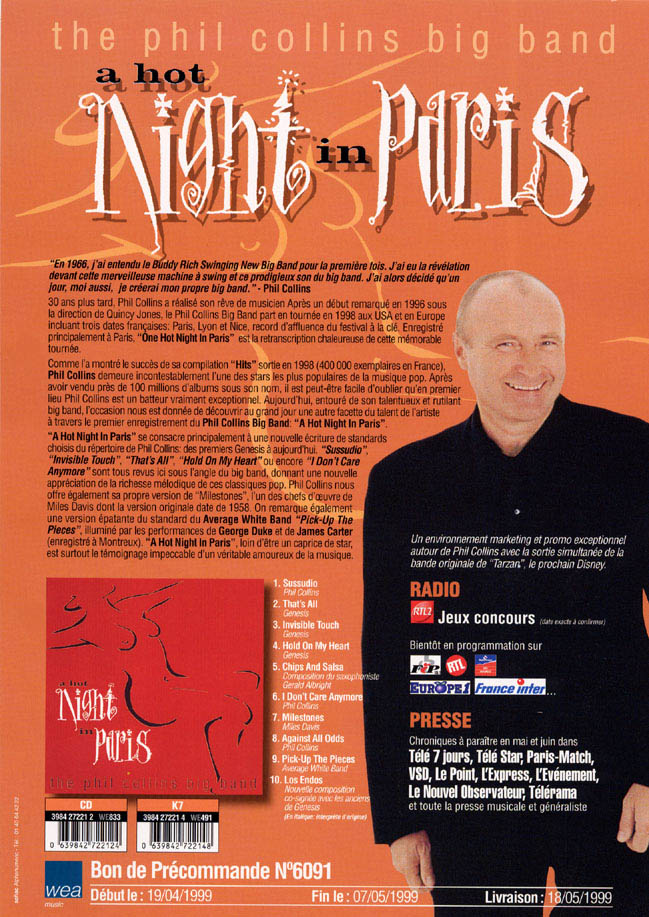 Phil Collins-Fr / www.philcollins-fr.com